Grip 910 – Private Track Day
September 9, 2022
@
6:00 pm
–
September 10, 2022
@
7:00 pm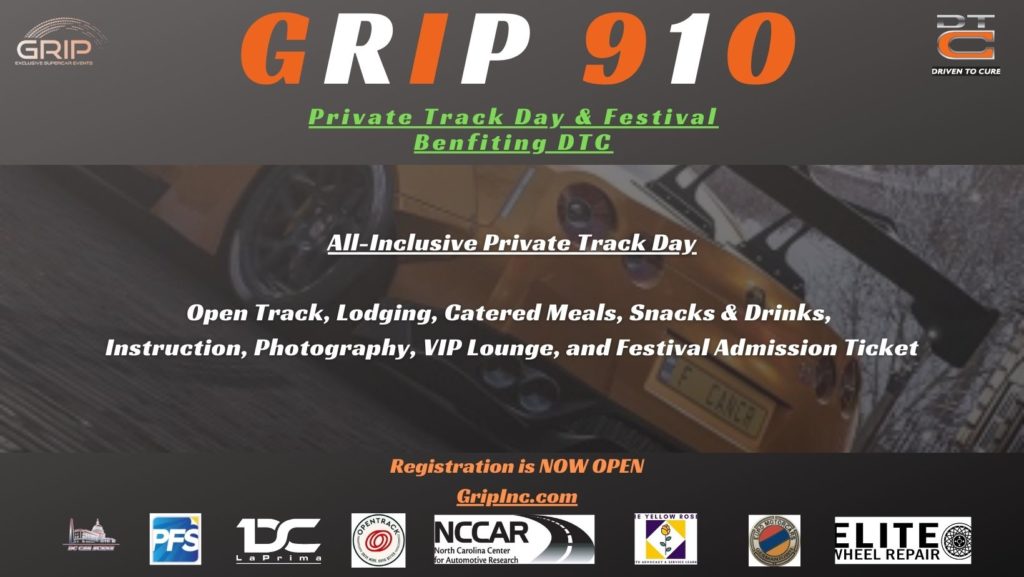 EVENT SUMMARY
This is not your "usual" track day experience. We put together a full-service, all-inclusive packaged, private track day for fellow supercar enthusiasts, who share similar "gripes"—too many cars; no food options available; no access to convenient accommodations; lack of on-site service offered; etc.
"Grip 910 Track Day" will give you the adrenaline rush you crave, without losing focus on every driver's safety. This event was exclusively designed for intermediate- and advanced-level drivers only.
All Grip 910 registered drivers & guests will simultaneously be registered for Grip 910's Track-Side Festival, benefiting Driven to Cure (DTC)—at no additional charge.
WHAT TO EXPECT
Grip's Private Track Days are all-inclusive:
Reception and registration (evening before)
One-night of lodging
Hot breakfast, coffee, and lunch buffet (at the track)
Snacks, water, and soft drinks (all day)
Instructors available throughout the day
Open track format (all day)
Track-side sponsors perks
Indoor bathrooms and showers
All-corner flaggers, workers, and EMS
VIP pit area for breaks
All stickers, decals, and numbers
On-site media team (all day)
Access to all photos and videos from the event (download on our website)
GUEST POLICY
Non-driving guests ($100 fee) must be registered online to attend the event. They can share lodging with the driver-participant, and they will be able to partake in all the same activities, except for track time. Please add your guest registration at the same time as you complete your driver registration.
FRIDAY, SEPTEMBER 9
4:00pm — Hotel check-in begins
6:00pm – 10:00pm — NCCAR gates open — Evening access to the designated facilities allows for event participants to drop-off your vehicle(s). You will be granted access to the track's lot until 10:00pm. If your travel plans have you arriving to the area after 10:00pm, trailers are usually allowed to be parked at the Hotel.
8:00pm – 9:30pm — Meet & Greet — Social Hour — We will be meeting at the hotel for an informal meet and greet, light appetizers and non-alcoholic beverages will be provided.
10:00pm — Get some sleep and get ready for a fun day
Note: Track facility gates will be open and available for those who want to set up their vehicles on the track pit the night before. for set-up and trailer drop-offs only. Please follow the Grip signage and park all trailers and cars in the designated areas. There will be electrical outlets available, if needed. If you are unable to gain access to the lot, please reach out to a Grip team member. Grip Team will be setting up between 6-8pm before meeting everyone at the reception.
NCCAR
310 Technology Drive
Garysburg, NC 27831
Hilton Garden Inn
111 Carolina Crossroads Parkway
Roanoke Rapids, NC 27870
252.519.2333
SATURDAY, SEPTEMBER 10
* Check-out at the hotel is at 10am. Please check out prior to arriving at the track or plan to make other arrangements.
7:00am – 8:00am — Tech Inspection open upon arrival at the track. Please follow Grip's on-site signage.
7:00am – 8:00am — Breakfast & Coffee will be available onsite. For your safety, please be sure to eat well and stay hydrated.
8:00am – 8:30am — Driver's Meeting. This safety meeting will be led by our track day instructors. They will discuss expectations of all participants, flag meanings, passing, safety protocols, race line, etc.
9:00am — Drivers will line-up at the pit-in area, as instructed.
9:00am – 1:00pm — Open/Hot Track
1:00pm – 2:00pm — Lunch will be served inside NCCAR's client suites
2:00pm — Drivers will line-up at the pit-in area, as instructed.
2:00pm – 5:00pm — Open/Hot Track
5:00pm – 6:30pm — Load-up and head out
*Times are subject to change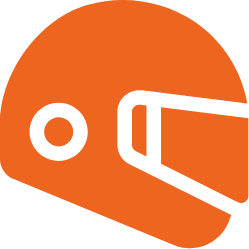 ABOUT THE FACILITY
NCCAR is only 3 hours from the Metro DC area and only 1 hour south of Richmond, VA
Grip has rented the entire facility, exclusively available to our limited number of attendees. This beautiful 620-acre site houses a two-mile track that has four left corners; seven right corners; and a long straightaway. It was built and designed by Lotus as a testing facility, until it was sold. It is now one of Grip's favorite technical tracks. For more track details, visit www.nccar.us.
Questions? Please contact our team at info@gripinc.com.
Drivers under 18 must have a parent or guardian present with them and sign a minor waiver.
Street cars on street tires
DOT approved helmet
No minivans, trucks, or crossovers
The passenger's seat must provide the same level of safety protection as the driver
This means both driver and passenger must have the same type (not model) of seat and belts
Convertibles must be equipped with either factory installed roll over protection (may be passive documented in the owner's manual or an aftermarket roll bar that meets or exceeds the standards set in the SCCA Drivers must bring owner's manual or aftermarket documentation and present it at tech.
All convertibles/drivers also need to pass the "broomstick test"
"Style" bars and removable hard tops are not approved for rollover protection
Retractable hard tops, Targa tops, T-tops, and sunroofs must remain in place while on track
*If you are unsure about the legality of your convertible, please contact us before registering.
MINIMUM REQUIREMENTS
TECH INSPECTION ITEMS
Interior Mirror • Seat Belts • Fire Extinguisher (recommended) • Peal in Good Condition • Brake Pedal FIRM • Emergency Brake Operable • Stop Lights • No Fluid Leakage • No Cracked Glass, No Excessive Rust • Exterior Mirror • Windshield Wipers; Gas Cap Secure • Hood & Deck Lids Secure • Steering Linkage • Suspension & Shocks • Wheel Bearings • Metal/Flexible Brake Lines • Sufficient Brake Pads (3/16″ Min) • Rims in Good Condition • Battery Secure • Electrical Harness • Relays Secure • Fan Belt • Throttle Linkage • Oil & Gas Lines Secure • Brake Fluid Clear, at "MIN," cap secure • Coolant fresh, at "MIN", cap secure • Oil Leaks
ADDITIONAL NOTES
Please be aware that you are responsible for transportation to and from the track.
Drivers must be at least 18 years of age and present a valid driver's license.
Drivers or guests under the age of 18 must have a minor waiver signed by their legal parent or guardian.
Only pre-registered participants and guests will be allowed on-site.
Bring camping chairs, if possible, Guests can hang-out in the paddock area, away from any traffic, or watch from multiple viewing areas.
Dress in cool, comfortable clothing and bring a windbreaker or fleece jacket, just in case.
Long pants, shirt, and shoes are required while on the track.
Shoes should be flat and thin-soled shoes, such as driving shoes or sneakers. Sandals, high heels or open-toe shoes are not permitted.
You are responsible for bringing your own helmet. Snell-approved helmets are required and will be a part of the waiver and tech-check. Racing suits are neither required nor provided.
If you have any specific dietary needs or food allergies, please notify us via e-mail at info@gripinc.com.
---
---